Start Date :

15th Feb, 2021
End Date :

19th Feb, 2021
Time :

3-4pm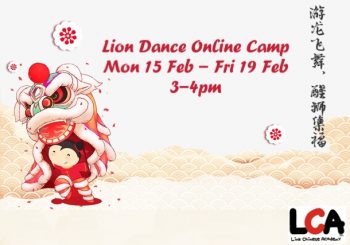 LCA February Half Term Online Lion Dance Camp
5 Sessions
£8.00 per session
LCA invites our Kungfu Star Teacher Wende CLEBER SOUZA  – Principal of AKX Kung Fu School, a master who has won 12 consecutive years martial arts championships in Brazil. Wende is fluent in both Mandarin and English and the camp will be offered in both languages.

Schedule
Monday: Making Lion Dance Head 制作舞狮头
Tuesday: Lion Dance Movements 舞狮基本动作
Wednesday: Lion Dance Movement 舞狮基本动作
Thursday: Lion Dance Musical Instrument Learning & Practice(No musical instruments needed, use small objects at home)舞狮乐器学与练 (无需乐器,利用家里现有小物件)
Friday: Review and Performance 复习与汇报演出
Where
Online via Zoom
Who
4-10 years, all levels welcome
Satisfaction Guarantee Policy: If you find out that after your first session that the class is not for your child, we will give you a full refund, including the first lesson you've attended.
1 Places available