Meet our teachers 我们的老师
Our excellent teachers – their passion, dedication and professionalism – are at the heart of LCA's success.
我们优秀的老师们 -他们对中文教学的热爱,专注和专业 -是我们成功的基石。
Claire Wang 王乔蕾 
Curriculum Leader & Senior Teacher
TCFL, SOAS University of London 
TCSOL, International Han Institute 
Claire is recognised a professional, creative and dedicated Mandarin teacher. She has been teaching Mandarin Chinese for over 7 years in Canada, Taiwan and England. She is an expert in teaching students of all different levels and backgrounds. Claire always teaches course material effectively and creatively, regularly gauging students levels of response, comprehension and interest. She always sets high standard in her every lesson. Teaching Mandarin is the greatest passion in her life.
Claire 老师的对外汉语教学经验已达七年以上的资历, 是被公认为一位相当专业, 有创意且相当有教学热诚的汉语老师. 在过去曾分别在加拿大, 台湾, 英国教授汉语. 也因此让Claire 老师成为一位专长于教各个年龄层, 各种不同程度, 各种不同程度的专业汉语老师. 在教学层面上, Claire 总是以高标准对待自己的每一堂课, 同时以热情与真诚对待她的每一个学生. 她把汉语教学视为自己的终生职业且不断学习与精进, 期望学生们在她的课堂快乐学习并稳定成长.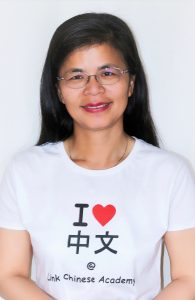 Manchiu Lin 林满秋
Teacher Success Leader & Senior Teacher
BA Chinese Literature, Tan-Kang university
Ms Lin has been teaching children Chinese over ten years, and is a very sought after teacher.  She is also a well-known prizing-winning Chinese children's book writer, her novels are widely read in the Chinese world, some now being translated into English. She is an expert at children's language and psychology, her classes are full of imagination, inspiration and fun.
林老师教儿童汉语长达十年,是位非常受欢迎的老师。她也是位著名的華文儿童文学作家,获奖无数,她的小說在華人世界广为流传,有些已被翻译成英文。她擅長儿童语文,熟悉儿童心理学,對学生很有耐心,她的课程充满创意,趣味无穷。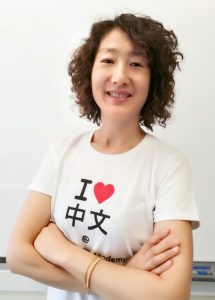 Sandy Guo 郭华君
Senior Teacher
BA Chinese Literature, Capital Normal University
Level 3 Children and Young Workforce Development
Sandy is a well experienced and dedicated Mandarin teacher, she has been teaching Mandarin for over ten years, has a great ability to teach students at all levels. Sandy is good at using the combination of different learning methods to implement in her lessons, using any play opportunities to extend student's learning. The worksheets, activities and games are designed focusing on the targeted languages in a meaning way to help children from different background gaining a new language more efficiently.
郭华君老师从事汉语教学工作已有十年,十年来不断学习总结汉语教学的经验, 认真负责的对待每一堂课.善于运用不同的教学方法计划实施学习内容, 课堂活动丰富活泼,能积极的调动不同背景的学生的学习积极性,熟悉中文GCSE, IGCSE考试大纲. 针对幼儿的语言学习有丰富的教学资源和创意的教学思路.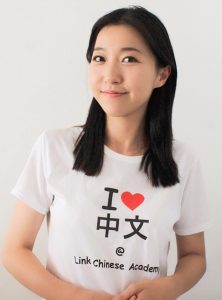 Sasha Hsu 徐暄婷
Senior Teacher
MA Education (Psychology) University College of London 
TCSOL Ministry of Education, R.O.C
Sasha has been teaching for twelve years and is recognised as a patient, knowledgeable, organised and well-prepared Mandarin teacher. Her particular strengths include Chinese characters, conversation, grammar and designing engaging classroom activities. Her dream is to help more students to use Mandarin, love Mandarin and in the future be bilingual speakers who bridge the East and Western world.
Sasha 老师教学已迈入第十二年。她是个很有耐心、很有组织能力,并总是备课完善的老师。她的专长包括教授汉字、会话、文法及课室活动设计。她的梦想是帮助更多学生使用汉语、热爱汉语,并期许学生们成为未来东西方文化的桥梁。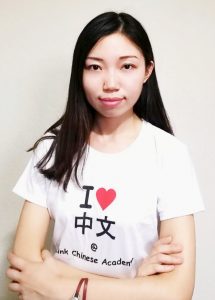 Tian Ye 叶天
Senior Teacher
MA Psychology, Zhejiang University
Tian Tian loves to interact with kids.  She's good at keeping young kids focused and motivated in Mandarin learning, and tends to tailor her ways of teaching to kid's preference. In her class, topics are close to young kids daily life and multiple types of activities are introduced to help students learn in various scenarios meanwhile have the access to apply and review.
天天老师喜欢与孩子进行互动。她擅长吸引孩子的注意力,激发他们学习汉语的动机。对不同的孩子,她喜欢从孩子的喜好出发,设计不同的教学方法。 在她的课堂上,学习内容往往贴近孩子的日常生活,同时互动活动多种多样,以帮助学生在不同情境中进行学习,并在生活中应用与巩固。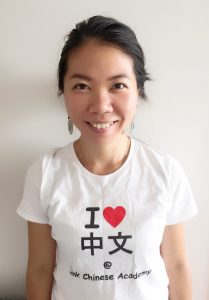 罗珮文 Peiwen Luo
Senior Teacher
Master of Arts in English, Tamkang University
TCSOL certified, National Taiwan University
Peiwen is an energetic, resourceful and results-oriented teacher dedicated to language education for more than 7 years. She has taught Mandarin in both Taiwan and Australia for the past two years. She has been developing and implementing creative and hands-on curriculum according to students' proficiency, which motivates them to learn and apply a new language. She is specialised in Communicative Language Teaching (CLT) on the base of cognitive linguistics. Together with her experience of incorporating Multiple Intelligence (MI) into her design of lessons, students are fully engaged and show the enjoyment of learning Mandarin on their face!
佩文是一位相当有活力, 拥有丰富的语言教学资源, 同时也相当在意学生学习成果的教师。在过去的两年中, 她在台湾及澳洲都有汉语教学的经验。事实上, 她已全心投入教学事业长达七年, 根据不同程度的学习者研发并实践兼具创意与生活化的语言教材, 且以之激发学习者学习及应用外语的动机。她擅长以认知语言学为基础的沟通式教学法, 结合多元智能理论, 并利用耐心与友善的态度教学, 使学生轻鬆融入课程并享受学习汉语的时光!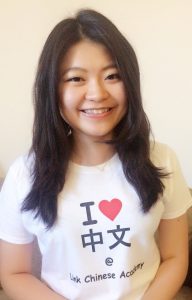 Ashley Hsu 徐育菁
Senior Teacher
Msc Management, University of Bath
BA Children Education, National Taipei University of Education
Ashley is an energetic teacher who has teaching experiences in Taiwan, UK and USA. She is good at communicate with students of all ages and levels. Her classes are always engage children with various activities and games, making learning language a fun enjoyment.
Ashley 老师在台湾,英国和美国都有教学经验. 擅于跟各种年龄和程度的孩子沟通。她的课堂上总是结合各种课室活动和游戏让孩子享受学习中文的过程。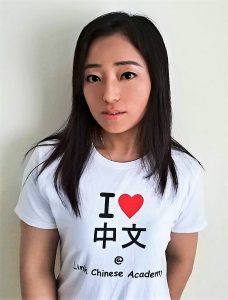 Maggie Wang 王丽梅
Senior Teacher

English Language Education & Psychology, Shenyang Normal University 
Chinese Language Education, Dalian University of Foreign Languages
Maggie is a competent, committed and professional school teacher with 20 years of wide experience and imagination in teaching. She has a great passion for teaching and a very calm, and patient manner with excellent communication and listening skills. She has good knowledge in teaching Chinese through dynamic and interactive sessions. She has a great ability to teach students at all levels and different backgrounds. And has strong understanding of children's behaviours. She is good at using various teaching methods to make classroom activities lively and interesting, to help students to be interested in Chinese, know Chinese and love Chinese.
Maggie老师是一名敬业、专业的教师,拥有20年丰富的教学经验,并在教学中极富想象和创造力。她对教学永远充满了的热情,对学生总是非常耐心,具有良好的沟通和倾听技巧,总是能和学生愉快地相处。Maggie具有丰富的汉语教学知识,并对儿童行为,心理有深刻的了解,因此让她成为一位善于教授不同年龄层,不同水平,和不同文化背景学生的专业汉语老师。她善于运用各种教学方法使课程生动有趣,充满创意,从而让学生对汉语感兴趣,变得了解汉语,热爱汉语。
Chui Poh Tan
Senior Teacher
MA TCSL (Teaching Chinese as a second language), Ji Nan University
Chui Poh is a passionate and dedicated teacher who has been teaching Chinese for over 11 years. She has taught children the beautiful Chinese language in four countries; the UK, China, Mauritius and Malaysia. In her experiences she taught in international schools, including the prestigious Garden International School in Kuala Lumpur. As a teacher She always concerns the learning of her students to ensure that they are making progress in their acquisition of the language.
翠宝是一位富有激情的老师,11年来,她在英国,中国,毛里求斯和马来西亚四个国家教授中文,其中包括著名的吉隆坡花园国际学校。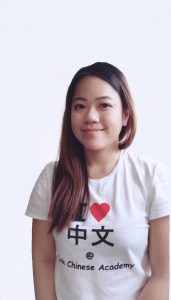 Olivia Li
Teacher
TCSOL and TCFL
Olivia has carried out a role in the education business for the past four years, in Taiwan, Australia, and the UK. She is a patient and dynamic teacher. In the classroom, she likes to integrate a several different elements that help to inspire the imagination of her students, driving them to achieve the goal.She is interested in Ukulele, drama, and sports, her future target is teaching students how to white their own story and to improve their expression and creativity in Mandarin.
Olivia老师投身教育类的工作四年了,在台湾、澳洲、英国都有教学经验。她是一位很有耐心和多元的老师。在课堂中,她喜欢融入一些不同的元素及激发出学生们的想像力,以达成学习目标。老师兴趣在乌克莉莉、话剧、运动,梦想是让学生培养出说、写故事的表达和创造能力。